Magic Travel Abroad
Magic Travel Abroad (Magic Journey Abroad) - one of the programs of public organization «UMNITS» (www.umnits.org) for the development of a free-thinking, creative, successful, self-defined, socially active and responsible person. The program has existed since 2004.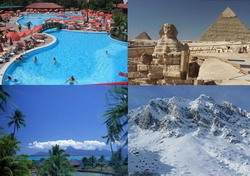 SPRING (Italy, Malta, Poland-Czech Republic-Germany)
SUMMER (France, Britain, Malta)



Purpose of the Program:
- help overcome the language barrier when communicating with foreigners
- learn to perceive and respect the culture of other countries
- develop commitment, reliability and confidence

The Program Participants:
- immersed in exciting competitive - English-speaking environment
- develop communication skills in English
- improve myself as a person
- learn to set goals and to find the means to implement them
- acquire skills to navigate the terrain and use the card
- develop the skills of planning their own budgets
- acquainted with the language of the visited country, its culture, traditions and characteristics
- try yourself in the role of a journalist
- develop skills scene photos

Tangible result of the Programme:
Electronic reference book about the country visited.
Reference is hosted at www.magiccamp.net and serves as a good reference point for those who are going in this country.


Program Benefits:
- universal for all ages
- fun and easy relocation, using games, puzzles and tasks, expertly trained team leader
- warm atmosphere of support, trust, mutual support and self-created command and educational games
- free time is filled with entertaining English classes, sports and creative games under the guidance of experienced managers with plenty of humor and enthusiasm
In addition to guided tours in advance, one day stay in another country group develops its own itinerary to interesting places and it explores the country in line with the objectives.
All have successfully completed a program devoted to the magics and become members of the Magic Camp Club. All magics have the right to participate in the "Magical World" at a discount.
With us is always fun, informative, interesting!